What do you get when you combine a protagonist with questionable morals with Italian crime bosses and one bloody good time? The world of Making Markum. 
Who is Markum? Is he a hero? Hitman? All we know is the crime world isn't as black and white as it seems.
What does Markum have in common with The Punisher & John Wick? They all know how to expertly handle a gun.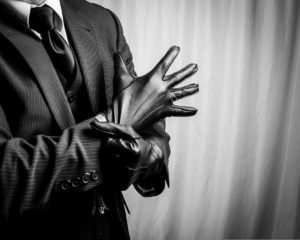 Who doesn't love a good anti-hero? A character who does the right thing (whatever that means), and refuses to color between the lines. Meet our hitman hero and Boogeyman of the underground world: Markum. 
If you've seen his face, you're probably dead. If you're looking for a page-turner that isn't afraid to get its hands dirty, you'll be instantly drawn into this world. 
The 86-page graphic novel was brought to life by an insanely talented writer, Mark Kauffman, and illustrated by Gregory Scott. For more on the brilliant mind of Mark Kauffman, check out our Spotlight Series – where one of our own, Kelly Kantrowitz, got to sit down and pick his brain. 
With an evocative plotline that'll give you Sin City vibes, Making Markum is all about a vigilante looking for trouble & to make a quick buck. Mark your calendars, as it'll be released right here on Rogue Matter on January 13th, 2021. 
OH, and we promise, you won't even want to come up for air.