Does Rogue Wav have some kind of alter-ego or secret identity? You could say that — the popular podcast series used to go by the name, "Secrets of the Sire."
Looking for a Podcast that'll satiate your pop culture cravings? Co-Hosts Michael Dolce and Hassan Godwin provide entertainment, witty banter, and exclusive access to interviews with the creators, writers, and actors you love the most. 
Six Degrees of Kevin Bacon? It's legit. Besides having a last name that makes our mouth's water, Kevin Bacon was also one of the many amazing guests we had on our show.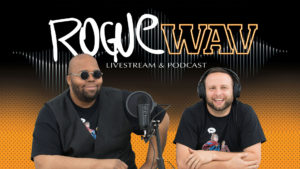 Rogue Wav is the frequency for all things Pop Culture and the Disruptors behind it. Our podcast covers comics, movies, TV, and pop culture – featuring exclusive guests and interviews. 
From the epic success of #ReleaseTheSnyderCut to reviews on popular shows like the Queen's Gambit, Mike and Hassan tackle it all – every Wednesday at 8 PM EST during their live Facebook podcast.