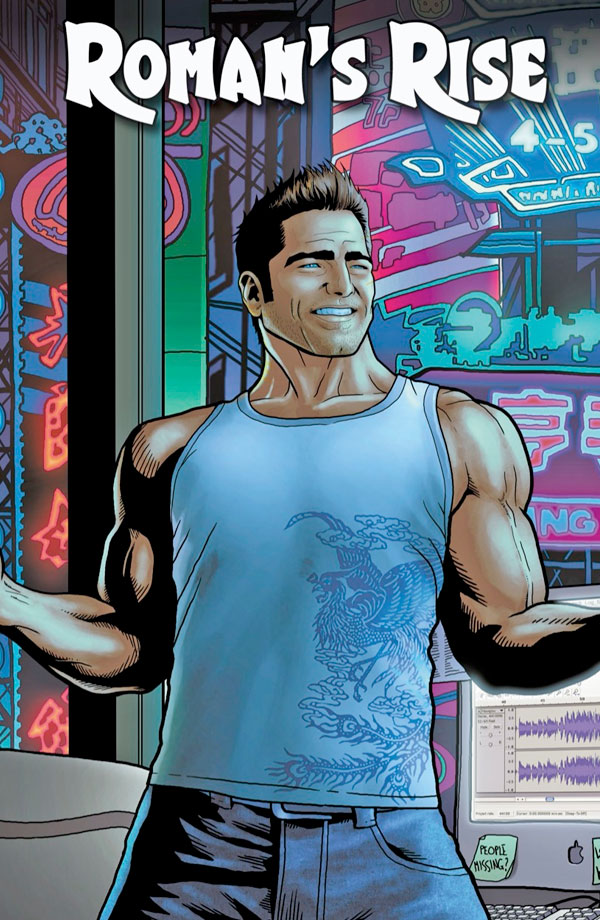 COMING SOON!
ROMAN RHODES is the guy you want on your side when the sh$t goes down… standing behind you when the sh%t hits the fan… or leading the way into a total sh*tstorm. Roman is a podcaster in Los Angeles, seeking out the weird and mysterious. He loves a good story, a fair fight, and an American beer.  His fists are almost as fast as his mouth and both of them frequently get him into trouble. He makes his money doing his podcast but also working as a soldier-of-fortune, doing the jobs no one else can do (or don't have the stones for). Roman's fighting skills are courtesy of the martial arts tutelage of his half-sister, REN.
Roman discovered he had a Chinese half-sister when she was first brought to his home in Barstow, California when they were both teenagers.  The two formerly only children quickly bonded over baseball and Kung Fu.  What Roman didn't know at the time was that Ren was smuggled to America to keep her hidden from SHEN WU, a powerful Chinese demigod. Shen Wu murdered Ren's mother and destroyed her village in an effort to abduct Ren. Fueled by supernatural powers, Shen Wu has a darker plan for both China and the entire world, a stratagem that mysteriously requires Ren and her hidden inner force.  She's the Chosen One (or "some other crazy sh#t", as Roman would say.)
Roman doesn't have much time for Chinese myths or immortal warlords.  But he loves his sister fiercely.  So much so that he accompanies her to Las Vegas and becomes embroiled in an illegal boxing ring at her request.  Ren felt drawn to Sin City for some unknown reason.  But when she realizes that Shen Wu has finally tracked her down, Ren, in an effort to keep Roman safe, goes on the run alone.  She wants to protect him from the dark spirits that serve Shen Wu… and her own burgeoning magical abilities she is just beginning to understand.
But Roman is not the kind of guy to let his baby sister fight the forces of evil all by herself.  She may be the Chosen One but she's still his kid sister.  If Roman kicked the crap out of the teenage jock who made a clumsy pass at her at a rager in high school, he's not gonna let some half-assed deity in mortal form try to kill her.  Roman uses his podcast listeners as a vast network of informants to procure leads on Ren or Shen Wu's whereabouts.  If he finds Ren first, she gets a hug.  If he finds Shen Wu first, he gets the ass-kicking of his thousand-year-long life.  Either way, Roman is drinking a beer that night with a big fat smile on his face and a Bon Jovi song in his heart.
ROMAN'S RISE is a deep dive into Chinese mysticism and action-adventure, anchored by the incredible bond between a brother and sister.  They would literally die for each other.  But, if Roman can fight off the hordes of hell, locate Ren and help her achieve her destiny, maybe they can make the bad guys dead instead.  Way better ending.
Hang on to your ear pods, kids.  Sh$t's about to get unreal.
Subscribe To Our Newsletter
JOIN THE MOVEMENT • GO ROGUE