What the heck does 'Noir' mean? It's a genre of crime film or fiction characterized by cynicism, fatalism, and moral ambiguity.
What do you get when you mix together a mysterious disappearance, a spoonful of mythical creatures, and 2 cups of detective work? One appetizing page-turner.
Let's face it: Who doesn't love a story replete with angels and demons? Probably someone who's made the mistake of getting stuck in the middle of it all. Oops.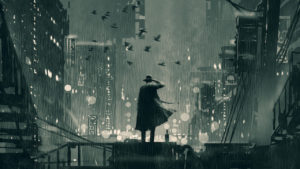 Dark shadows, gritty characters, and criminal masterminds? All elements of the classic Noir Art form. This style of fiction or a film is cynical, bleak, and pessimistic in nature – like the renowned flick, Citizen Kane. It's also all part of our epic illustrated novel, Samael: Fear to Tread. 
The very first chapter of Samael: Fear to Tread is out now on Rogue Matter. Get your fix here.
Still looking for a reason to read Samael: Fear to Tread? Our very own Tia Fabi reviewed the first three chapters of the novel, describing it as an "Intriguing and can't miss the mix of Noir and Fantasy." Check it out here. 
Subscribe To Our Newsletter
JOIN THE MOVEMENT • GO ROGUE